Reception New Intake 2023-2024
On behalf of the staff at Holy Trinity RC Primary School, I am happy to welcome you to our school!
Your child will attend three mornings at school to meet the staff and the other children who will be in the class as well as getting used to the environment. You would then be invited to attend an induction meeting.
Please have a look at our blog to get a feel for what we do in Class 1.
We are looking forward to a productive partnership with you to ensure your child can achieve their highest potential. We recognise that in order to be successful in school, the children need support from both the home and school. We know a strong partnership with you will make a great difference in your child's education. This is why regular communication is important- this can be in the form of writing in your child's reading record, letters, speaking to me before/after school, helping your child to complete their homework and practising their letter sounds and numbers with them.
Some useful information about our class:
* PE will be on Monday afternoons and Wednesday mornings, so please ensure that your child has their full PE kit in school. Names should be in every item of clothing that belongs to your child. If your child has their ears pierced, then the earrings need to be removed on these days or a plaster put over them.
* Reading books are changed every Monday and Friday. Please find the time to read with your child as often as possible, reading for 5-10 minutes daily would be ideal. Please ensure that you write a brief comment and sign the reading record. The reading book and reading record should then be brought back to school on a Monday morning and on a Friday morning in order for us to listen to your child read and change the book.
* Please ensure your child brings their book bag to school everyday as we may give letters or work out.
* Phonics homework will go home on a Monday to be completed for the Friday. Children need to draw objects that contain the sounds featured, e.g. s- snake.
There is a bbc website to help with starting school: https://www.bbc.co.uk/bitesize/collections/starting-primary-school/1
You can also see myself (Miss Smith) reading some stories on Youtube so that your child will recognise me in September: https://www.youtube.com/channel/UCVuvc391lQUWS7I5kbvcJYw
If you have any questions or queries, please do not hesitate to ask.
Many Thanks,
Miss Smith and the EYFS Team.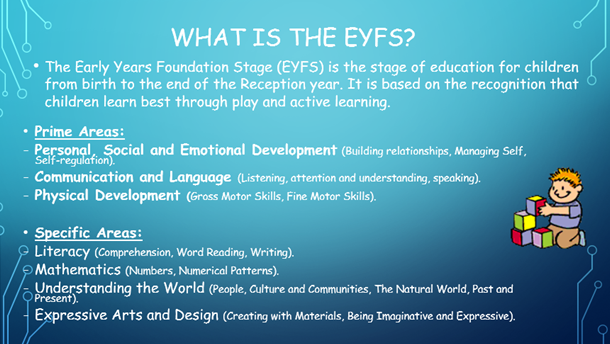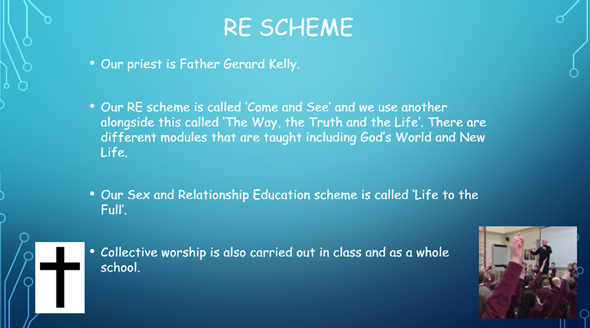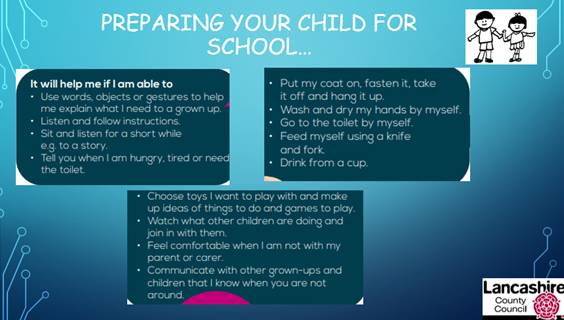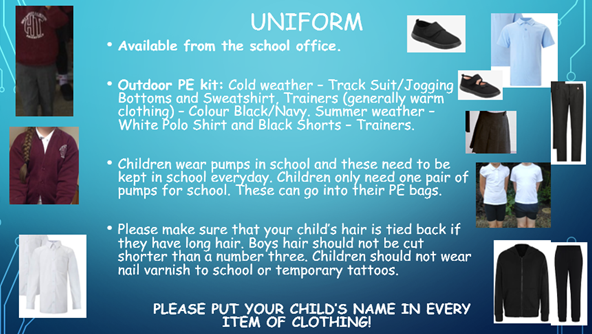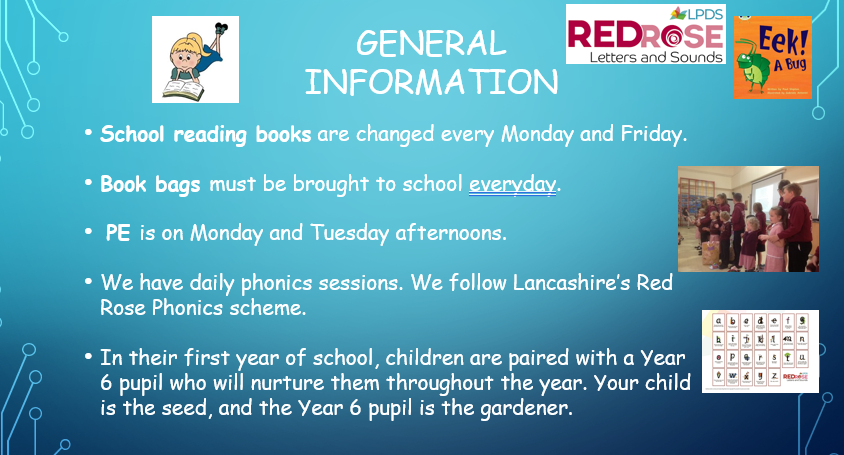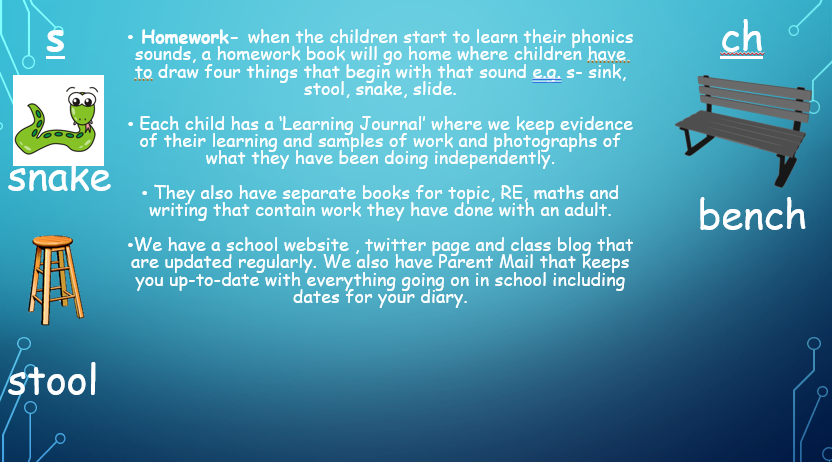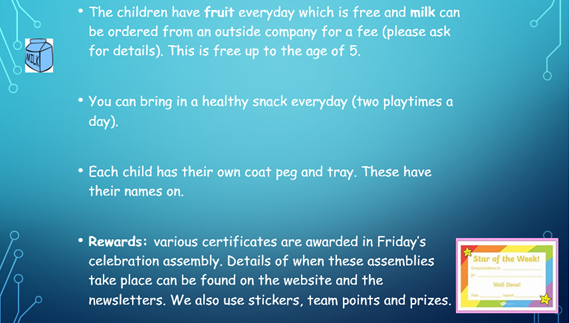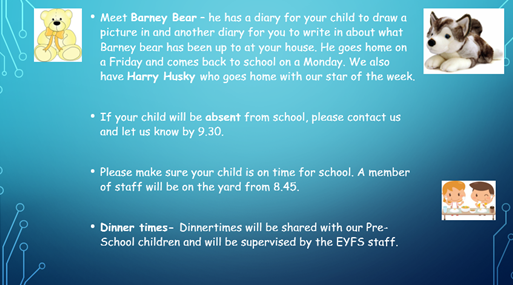 Here are some online resources for starting school:
Top tips for getting ready for school (for children): https://www.youtube.com/watch?v=CM15-9VLcr8&feature=youtu.be
Lancashire County Council (Getting Ready to Start School): https://www.lancashire.gov.uk/children-education-families/early-years-childcare-and-family-support/family-support/getting-ready-to-start-school/

Hungry Little Minds (Fun Activities): https://hungrylittleminds.campaign.gov.uk/

National Literacy Trust- Words for Life (Supporting Language Development): https://wordsforlife.org.uk/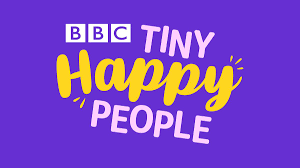 Tiny Happy People (Developing Communication Skills): https://www.bbc.co.uk/tiny-happy-people
Pictures of Our Classroom