Welcoming Pendle Primary Academy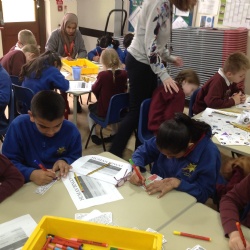 Class 3 hosted Pendle Primary for the final part of the Building Bridges Project.
We were excited to finish the project by hosting Pendle Primary Academy in our school. We began with warm up activities where the children were interacting by asking questions. Then the children were making friendship bracelets, colouring activities and finished with a jigsaw activity where they had to draw a portrait of each other. Children then swapped portraits and gave each other friendship bracelets so that they could take these away as a reminder of their good work.