Cooking Club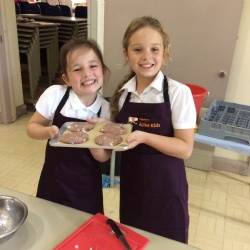 Some of our Year 5 students enjoyed taking part in Cooking Club after school this week.
The children learned how to prepare and cook turkey and cranberry burgers in their first lesson with our school chef Mrs Travis.
They practised various skills such as chopping and learned how eggs can bind mixtures together and also how the sage and cranberry ingredients were added for flavour. The children also discussed safety in the kitchen.
We hope the parents enjoyed tasting a home made burger!