Class 3 Holy Communion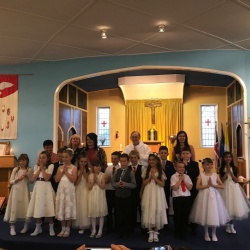 Our Children in Year 3 made their First Holy Communion on Saturday 1st or Sunday 2nd July at St Southworth's Church, Vaughan Street. They celebrated the Eucharist with their families. Many members of our School and Parish Community have commented on the wonderful, prayerful response of the children. We are very proud of them.
The girls looked beautiful in their white dresses and the boys looked very handsome in their smart clothes. First Holy Communion is a wonderful moment in a child's life and represents a sign of growth in the knowledge and love of God for each and every child. Parents who bring their child or children for First Holy Communion are fulfilling the vow they made publicly at their child's Baptism some years before to be the "first and best teachers of their child in the ways of faith". Now they are more actively fulfilling this vow.
Please keep all our children in your prayers.