Museum of Science and Industry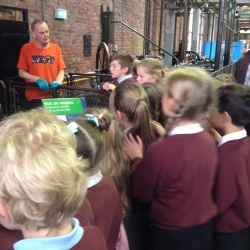 The Juniors had a wonderful time at the Museum of Science and Industry in Manchester on Friday.
The children enjoyed exploring the exhibits including learning about different engines in the Power Hall, watching the weaving demonstration in the Textiles gallery and looking at early computers. In the Air and Space Hall the children were excited to see the aeroplanes and cars up close. The children learnt about chemical reactions in the Explosions workshop by investigating what caused an explosion at the Mill 100 years ago! The interactive gallery gave them lots of hands on opportunities to investigate and try different ideas out, such as how to change the pitch of sound. They even used cogs and gears to lift a mini single handedly! Well done to all the children for being great scientists and engineers!