Bishop John's Visit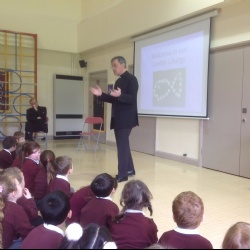 On Family Fast Day, we welcomed Bishop John to talk about the inspiring work of Cafod and to share a liturgy with our school community.
We were delighted to welcome Bishop John to our school for the first time after the Pupil Chaplains wrote inviting him to speak about his work with Cafod.
He was welcomed by the Head Boy and Girl and some Pupil Chaplains. Then after a tour of the school he chatted with the Pupil Chaplains about their important role in school and gave some good advice about keeping our beliefs strong as we get older. Next he inspired the whole school and governors with his talk about the work of Cafod that he has witnessed. Bishop John encouraged us to learn from the example of those who have little but share much. The visit ended with a beautiful liturgy prepared and led by the pupils.
Thank you Bishop John, we hope you come again soon!