CHILDREN'S MENTAL HEALTH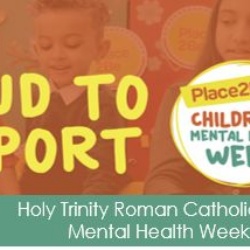 This week was Children's Mental Health Week. This year's theme is Let's Connect.
Let's Connect is about making meaningful connections. We had lessons encouraging our children to connect in healthy, rewarding and meaningful ways. People thrive in communities, and this connection is vital for our wellbeing. When we have healthy connections – to family, friends and others – this can support our mental health and our sense of wellbeing.
We have some Mental Health Champions who support the trained staff in school.
As Mental Health Champions, there is a very important role to fulfil, including but not limited to the following:
To ensure all people within our school feel safe, happy and successful.
To listen to and support pupils with concerns such as wellbeing, bullying and friendships
There's no problem too big or too small! They can also help with any concerns you have about lessons.